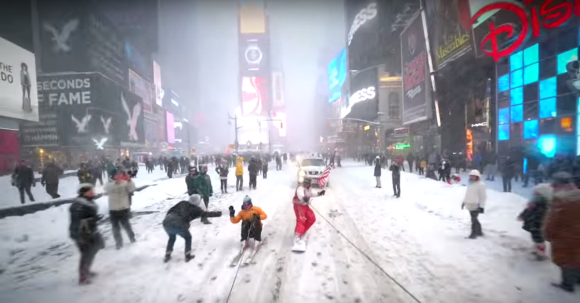 By now you've probably seen the video of the guy snowboarding through Times Square while being pulled by a Jeep. It can seem like a random occurrence when viral videos* happen. All of a sudden, out of the blue, it seems like something catches on fire and instantly it is everywhere.
Let's take a few minutes and dissect everything that had to happen for this "random" occurrence to come to pass.
Step One: Bust your ass for five years or more.
Remember that video from 2011 of the random guy riding in the bike lanes of New York City? The entire video was of a bicyclist crashing into cars and obstacles that were obstructing the bike lane. That bike lanes video was done by a guy named Casey Neistat, who was peeved that he'd received a $50 fine from the NYPD for riding his bike in the regular traffic lanes.
You know who made this snowboarding video? Casey Neistat. He's been honing his craft, making videos day in and day out out for over half a decade.
Here's the video, in case you hadn't seen it yet. It's awesome.
Step Two: Hustle. Always.
If this video had gone out tomorrow (Monday), he probably would have been too late. He and his team knew they had their window where they could catch the zeitgeist. They had to publish it today if they were going to do it at all.
Step Three: Have a kick ass team that is no bigger than it needs to be.
The core of this video was done with three people. One person to ride, one person to shoot, one person to drive the Jeep. There's no crew, there's no committee. Everyone's a doer.
Step Four: Start from a position of strength
Casey's channel has over 1.8 1.9 million subscribers. He has a legion of followers. He publishes videos nearly every day. Not every one of his videos will go "viral." Not even close. However, having that consistent connection with his community means that the stage is set for something to take off when the opportunity arises.
Step Five: Be willing to throw stuff away and break things to do something great.
They dumped multiple cameras in the snow during the shooting of this. While the final video was under three minutes, they were clearly out there for hours getting everything they needed. The majority of the footage that was shot will never see the light of day, and that's ok.
Step Six: Everyone knows there is snowmaggeddon drama in New York and Times Square today
There is already massive attention focused on New York and the East Coast today. This video wasn't creating a new wave, it was catching one that was already rocketing along.
Step Seven: Did I mention hustle?
From the behind the scenes video, they said they started shooting at nine in the morning and finished everything up, including editing, at one o'clock the next morning. If my math is right, that is 16 hours of focused time in the zone over the course of a single day to get this done. It had to be done, so they did it.
Step Eight: Have the right team
Per the point above, it's not just important to have a focused team, it's critical to have the right team. For this effort, it sure seemed like everyone knew their role, be it driver, boarder or cameraman. Everyone on the team knew what to do before the snow even started falling. High-functioning teams have muscle memory, and don't need to think about what to do next. They just do it. As such, folks could play their position and do exactly what they needed to do, and not get in each others' way. This sure appears to be a high-functioning team. People were not running into each other trying to figure out who should be working on what. Everyone knew what to do.
Step Nine: Create something that works
The video itself is fantastic. They started with the spectre of conflict with the NYPD. They also set the stage right out of the gate that this is something that it is fun, uncommon, and a little bit illicit and perhaps even illegal. That builds drama and builds interest throughout the video in what the outcome will be.
The shots are tight and the editing was great. I don't think there's a single shot in there that is over three seconds before the next cut.
There is a narrative, a protagonist and a host of supporting characters. You have the "stars" doing the actual riding behind the Jeep, but there are a number of outstanding interactions with passersby that happen a few times during the video. Throughout, the vibe that permeates the video is that this is fun, this is a community thing, and this is something that anybody could do. They even bring some of the folks from the street into the fun as well. The entire video feels participatory, not exclusionary.
Above and beyond the images of riding a snowboard through Times Square and the streets of New York, the shots had something unexpected in almost every scene. The high drone shot is outstanding. And seeing someone pass through a car-free Times Square is something that we rarely see.
The story arc comes around and resolves at the end of the video. While I smiled at nearly every scene, I also spent the entire video wondering when they were going to get busted. They finally do get pulled over — and the reaction of the cops is priceless and unexpected. They nailed the title of the video as well, setting up its inherent tension and conflict.
People love stories.
Step Ten: There was more to the story.
They shared the behind the scenes making of this as well; that is a much longer and deeper piece. Also of note: the first time I clicked through to the behind-the-scenes video, I did see a full-length ad that required viewing before the behind-the-scenes video could be seen. This was totally OK with me. I had gotten the initial "fun" video without any ad intrusions, and I was certainly fine sitting through a 15 second preroll to see everything that went in to making this piece of joyousness. From my standpoint, that approach showed respect for the audience. Instead of trying to immediately jump on and throw an ad to block things in the initial video, I wonder if they made the explicit call to have the initial video accessible with zero friction and try to make a couple of bucks off of the clickthroughs to the behind-the-scenes video.
Here's the behind the scenes video. A lot of work and hustle went into this.
Step Eleven: Assume things will go wrong, and plan for that.
In the behind the scenes video, you'll see the videographer backing up video files as they are going along, just in case something went sideways. He also notes that they trashed a number of cameras, and their primary camera, that they probably would've used without mishaps, actually shot some of the worst footage. It sounds like they thought they used the wrong lens, which is why video coming out of the "gimbal camera" was foggy and not as clear as the other shots. Things happen. Play the hand you're dealt.
So what's the secret to going viral?
Big wins like this are not completely unexpected. Success is not a lightning striking randomly thing. So what's the secret to success?
Number one: Bust your ass for years.
Number two: Hone your craft.
Number three: Be willing to throw things away.
And number four: Hustle.
* – By the way. I hate that term with the fire of a thousand suns.