As the marketing world gets more complex, there are a number of approaches that can be employed in order to increase engagement with prospects and customers. Some companies use Sureshot to help create more data-driven marketing campaigns, others are looking into how AI can help improve their customer service and a few are being left behind because they are still relying on traditional marketing methods. Let's face it, the future is digital. If you talk to a professional SEO organization that understands SEO in Adelaide, for example, could provide insight into how to grab audiences in that area for your appropriate demographic. In particular, if you're responsible for driving higher engagement with your brand through online channels, items such as content lists, photos, surveys, stories and personality are items that should be in every marketers toolbox. Even looking into a content marketing funnel guide will help advice you on how to track your audiences blogs, photos etc. too!
Content lists
Increasingly, easily-digestible articles with lists of content (now going by the unfortunate name of "listicles") are a growing part of the content marketing landscape. Sites such as Buzzfeed have driven millions of engagements on the back of this strategy. The rise of mobile devices, in particular, has been a key contributing factor to this trend. Short, snack-sized bits of content can be easily consumed on smartphones and tablets.
Photos
If your community connects on services such as Instagram or Pinterest, photos are de rigeur. Additionally, photos are becoming increasingly critical for Facebook engagement as well. Facebook seems to give preferred exposure to images, especially on mobile (for example, check out tip #8 here from our friends at HubSpot, which notes that according to an internal Facebook study, "posts including a photo album or picture can generate 2X more engagement than other post types"). As such, if your community is on Facebook, relevant, eye-catching imagery is required.
Surveys
One thing that we've found is that short surveys such as this one from Care2 and this one from BlogHer can be highly engaging for readers. In fact, in both of these cases, the engagement on the Swipp surveys was significantly higher than other types of engagement such as Facebook likes, Twitter shares or even comments. (In the BlogHer case, they received 80 engagements with the survey vs. a total of sixteen Facebook and Twitter engagements combined).
Stories
People tell each other stories, and brands can have stories too. At the recent Blogwell event in Santa Clara, CA, Coca-Cola's Ashley Callahan shared Coca-Cola's strategy for turning their corporate site into a story portal that shares the history of the brand. Stories bring humanity to the conversation (and they are more interesting than product feeds and speeds, anyway).
Personality
Most importantly, however, choosing to infuse personality into your brand and communications is the aspect that will drive the most engagement. A great example from Twitter is the @daily_kale handle. An example: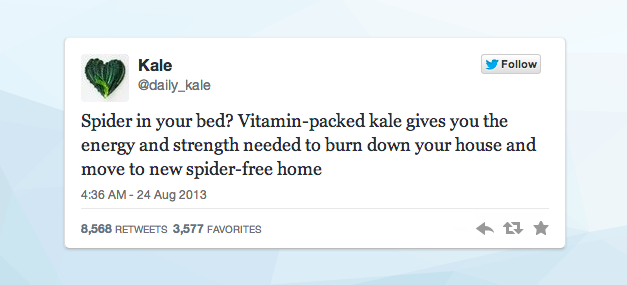 Twenty-six words (the right twenty six words) yielded over 8,000 interactions with readers, either through helping to spread the word via retweets or favoriting that post.
What's worked for you to increase engagement with your prospects, customers and community?